Not all freelance professionals think about networking, especially if they're already getting enough work. But there's more to networking than pitching your services to others. Much more.
What is networking?
Marketing and networking are overlapping but distinct things.
Marketing convinces (the right) people to buy from you. Networking provides professional comradery, co-mentorship and emotional support. Both marking and networking build awareness of your business and services.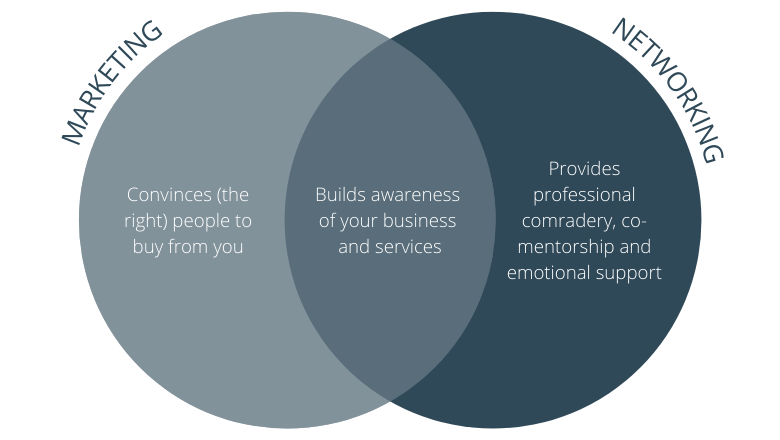 I think a lot of freelancers who exist in an online space fail at using social media to its full potential because they treat it solely as a marketing tool and not the networking tool it was intended to be.
Dowdle and Ruggeri define networking like this:
Networking is behavior that builds a web of mutually beneficial relationships.
And that's the real key. Networking isn't just about you and what you can get from an interaction – and it's certainly not about self-promotion (though that can be a small part of it).
It's about what you can give.
Because when everyone is giving, everyone is also receiving. And that's just so much nicer, right?
Networking goals and tactics
I enjoy chatting with my fellow writers and editors, online and in person, but I've never really thought about tangible goals of professional networking.
I have a general sense that if I have referral and recommendations coming in, if I know who to recommend if I can't take on a job myself, if I'm able to tap into the collective wisdom of my industry, and if I've made some friends along the way, I'm doing this networking thing right.
However, this book made me think more specifically about my goals and the strategies and tactics I can use to get there.
A strategy sets the direction of where you want to go, whereas tactics are the individual steps and actions that will get you there.
For example, one strategy I decided to focus on after reading this book was to improve my email communication. (It's my secret shame that I'm not better at responding to emails!) The tactic I'm using is to (try to) respond to all my emails as soon as I sit down at my desk.
The book covers five tactics in detail: your website, personal communications, social media, professional groups, and volunteering. Each associated chapter lays out a clear argument of why you might consider these tactics and how you can make the most of them to reach your networking goals.
It's important to note, though, that you don't have to employ all these tactics. Networking doesn't mean being everywhere all the time and knowing everyone.
Networking in a way that works for you
One of the best things about Networking for Freelance Editors is that it emphasises that there's no right or wrong way to network. In fact, it covers so much (succinctly) that I'm sure anyone would be able to come up with a plan of action that feels comfortable for them.
Dowdle and Ruggeri were kind enough to send me a print copy of the book as a thank you for contributing a tiny snippet, and I'm so pleased they did! Because in all honesty, I probably wouldn't have picked this book up otherwise, feeling my professional networking was going just fine.
But I learned a lot. It was both a clarifying and comforting read.
Who would I recommend this book to, and how should they use it?
This book calls itself a workbook, and its chock full of worksheets. Though I didn't use many of these myself, I can see how they would be useful to those just starting out in their networking ventures or those who feel especially daunted by the idea of professional networking.
And as an editor and book lover, I also really appreciated the quality of the writing, the layout of the information, and the beautiful design. I can really tell a huge amount of effort went into creating this book, and the result is something highly informative and easy to act on.
It's also so great to read a business book targeting specifically at freelance editors! There were so many examples and resources specific to editing, it made it especially useful for those of us in this field – though the general advice would certainly be applicable to other kinds of freelancers.
Any editor wanting to improve their business would benefit from reading this book because there are so many benefits to professional networking, not least that it can make a potentially lonely vocation feel much less lonely.
Learn more, buy the book, and access your free resources here: Networking for Freelance Editors.